Why do you need to learn how to do a voice over on TikTok? Isn't TikTok just about dance challenges, makeup reviews, cat videos, and people creeping out of their houses disguised as trees? How could that possibly affect your business?" It's simple. With over 1 billion users, if there's a new trend, product, influencer, or joke, you can bet it's on TikTok! As more users sign up, the popularity and scope of TikTok and, subsequently, TikTok voice overs continue to increase.
So the billion-user question is – how do you stand out from the crowd? Well, at Voice123, we know that voice overs are an excellent tool for creating unique video content. So, we've put together this updated guide to show you how to do a voice over on TikTok, which includes what is a TikTok voice over, how to upload your TikTok voice, and how to record a TikTok with voice filters. We've even got a step-by-step tutorial to teach you how to add a voice over to TikTok – with video instructions!
Let's upload!
What is a TikTok voice over
A TikTok voice over is a live or pre-recorded voice over that's added to a TikTok video via the TikTok app, with the possibility of different editing options like voice filters and effects. So, if you're looking for a creative channel to boost traffic, sign-ups, impressions, or conversions, now is the perfect time to jump on the bandwagon. In fact, Techjury reports that 'more than 1 billion videos get viewed each day. Now imagine someone recognizing your brand because, 'Oh yeah – I've seen that in a TikTok video!' So whether you're launching a new product, advertising a promo, or running a campaign, doing a TikTok voice over could be the perfect way to tell your brand's story.
You could even take it a step further and partner up with an influencer, a professional voice actor, a local celebrity, or a customer/client willing to discuss their success story to give your TikTok voice overs a UGC authentic vibe. Sounds like it's only for the big leagues? Check out these small business TikTok success stories who've used the platform to boost sales, increase impressions, and go viral!
So, now you've decided on the type of TikTok voice over – how do you do it?
How to do a voice over on TikTok
Open your TikTok app (You must be logged in)
Select the plus (+) button at the bottom of the screen
Tap 'Upload'
Select the video you want to upload from your gallery or record a live video
Tap the check mark
Your video will appear with a white marker and an editing timeline
Position the white marker at the point where you want your voice over to start
Tap the Record button on the bottom-left corner of the screen to record a TikTok voice over
Tap the Record button again to stop the recording
Press play on your video to check the quality of the voice over
To delete a TikTok voice over press the 'X' and re-record
To record multiple TikTok voice overs, drag the white marker to another point in the video and repeat the recording process
To mute a TikTok, select the 'Replace original sound with recording' option so the only sound will be your voice over.
Once you're happy with your voice over and video, press the 'Next' button to add your tags and video details and hit 'Post!'
So now you've got a detailed guide on how to do a voice over on TikTok – but we've also got a step-by-step tutorial to help you make the best TikTok voice overs in 2023.
These are the basic steps to record a video on TikTok, but there are also other editing options you can use to make your voice overs stand out even more.
How to edit a voice over on TikTok
You can edit a voice over on TikTok by using the built-in editing tools. Tap the scissors icon to trim the length of the voice over, use the volume controls to change the sound, and use voice filters or effects like chipmunk, megaphone, echo, baritone, and many more.
You can also record a TikTok using the text-to-speech feature; here's how to do it.
How to record a TikTok using text-to-speech
Open your TikTok app and record/upload your video.
Tap the 'Text' button in the video editing menu and enter the captions for your voice over.
Tap the text box and select the 'Text-to-Speech' option that appears.
Choose the voice style you want in your voice over like calm, dramatic, or serious.
You can create multiple text boxes with captions, and if you want the voice over to include all of them, select the option 'Apply voice to all text in this video.'
But how can you edit your TikTok videos to make them even more impactful?
How to edit a TikTok video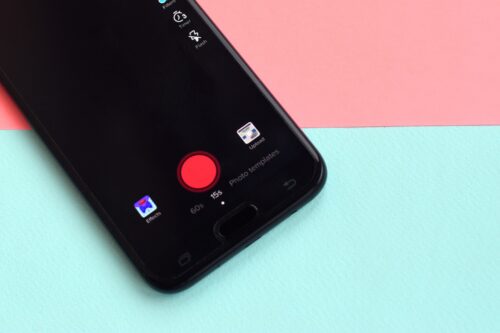 You can edit a video on TikTok by using built-in editing options like stickers, sounds, text, and effects. Add stickers by tapping the stickers button. Selecting one from the list and resizing it. Add sounds by clicking the sounds button, selecting a sound from the list, and tapping the Check button to add it to the video.
Add text to your video by selecting the text button, tapping the spot on your screen where you want the text to appear, and typing your message. You can also add effects by tapping the effects button and selecting the one you like to add to your video. Remember that for some effects to work, they have to be selected before you film or upload your video, while others can be added after.
How to delete a TikTok
You can delete a TikTok that's already been uploaded by opening the app and tapping the 'Me' button at the bottom of the screen to open your profile. Navigate to the video you want to delete and open it. Click the three dots on the side of the screen to open a drop-down menu. Scroll to the bottom of the menu until you find the Delete button. Tap the button, confirm that you want to delete the selected video, and it will be removed from TikTok.
How to make TikTok voice over videos in 5 steps
1. Establish your goal
Once you've decided on the goal of your video campaign, you can focus on how you will measure your success. For example, maybe your video gets 10k views – that's great! But were you actually hoping for 100 clicks on your website link? So, define your goals, which can help you better analyze your video's success.
2. Plan your story
Create a storyboard, choose the right visuals, and remember that you need to channel your brand's theme, tone, and color. This is why it's vital to know your target audience to plan the right story with the best voice overs to grab their attention.
3. Create a unique script
While eye-catching visuals can reel in a user, engaging voice overs are what keep the person's attention. Make your script relatable so that the user gels with the story. Choosing the right words for your audio can help you focus on better branding and word association.
4. Hire a professional voice actor
Anyone can read a script, but a professional can help bring it to life! So, never underestimate the power TikTok voice overs can have in your videos, especially when they're a hit! Besides, finding a pro voice actor is as easy as Voice-1-2-3!
5. Add your TikTok voice over
Add your TikTok voice over in a few minutes using the steps in our guide on how to do a voice over on TikTok – it's that easy! There's also a delete feature, re-record options, sound filters, and the option to record multiple voice overs at different timeframes.
Final thoughts on TikTok voice overs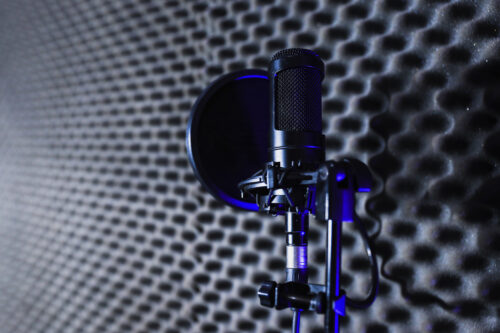 And there you have it – the ultimate guide on how to do a voice over on TikTok! All that's missing is a professional voice actor to nail the vocal performance, which can be recorded directly on TikTok as outlined in the steps and video above. If you decide to go pro, you can search for a voice actor or use our Managed Services team to monitor every aspect of your project.
May the 'virality' be with you!
FAQs
How do you do a voice over on TikTok?
Open your TikTok app and upload a pre-recorded video, or tap the red recording icon to record a live video. Then select the red checkmark when you finish the recording. You're now ready to record your voice over by selecting 'Audio editing' from the menu options on the right (It looks like a microphone). Then tap 'Record' to start recording the voice over. Select 'Save' when you're done and 'Next' if you're ready. Otherwise, tap the back arrow on the top left to re-record.
Is it easy to add TikTok voice overs?
Yes, it is. You can also play and pause the video to record the voice over at different times of the video, and if you make a mistake, there's a delete feature. You can even add audio filters to the voice over. Check out our tutorial on how to do a voice over on TikTok.
How do you record a video on TikTok?
First, open the TikTok app on your device and tap the '+' icon at the bottom of the screen, select the length of your video (15 seconds, 60 seconds, or 3 minutes) and tap the red record button to start and stop the recording; after you've recorded your video tap 'Next' to add captions, hashtags, and choose your sharing settings before posting.
How do you delete a video on TikTok?
To delete a video on TikTok, start by opening the app and go to your profile, find the video you want to delete and open it, tap the three dots on the bottom corner of the screen, and select 'Delete' from the menu that appears, confirm that you want to delete the video and it will be removed permanently.