Persuasive promos, catchy corporate videos, or convincing commercials that spike sales can be a mission-critical decision and hiring a voice actor who can record high-quality content is crucial. So we've got you covered! Voice123's free booking feature makes it easier and safer to hire a voice actor. Here's a quick breakdown of how it works, the benefits, and how it can make your next project a success!
Hire a voice actor through Voice123's booking feature
Voice123 is an online platform that helps you create fast and effective connections with voice actors for all of your voiceover needs. But we know the process of hiring a voice actor may pose some challenges such as:
'How can you ensure that the voice actors will be reliable?'
'How can you pay voice actors in other countries?'
'What should you stipulate in the contract?'
Using our Voice123 free booking feature can help eliminate these challenges by connecting you with professional voice actors, so that you can easily discuss and negotiate terms, and make use of our trusted Secure Payment system. The booking feature is specifically designed to help you get voice overs with a quick turn-around time without compromising on quality.
Client profiles are also free to create. There are no membership fees or subscriptions.
Using the search feature, listening to voiceover samples, and creating a booking is also FREE to use. You only pay the voice actors you hire for their performance and the usage of their voice.
How to hire voice actors via Voice123's booking feature
Use the search bar to type an example of the 'sound' your project needs. For example, typing 'Morgan Freeman' brings up a variety of voice actor profiles, with a related voiceover sample. When you hear the voice that best resonates with your project, hire a voice actor by clicking Book Now.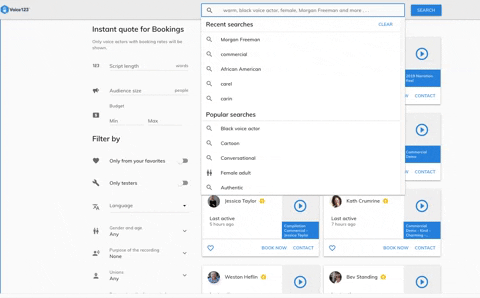 If a voice actor has already auditioned for one or more of your projects, you'll be able to select an audition directly in the booking form. This helps you link your projects and bookings and benefits voice actors too.
When you post a project on Voice123, you can choose to receive approximately 5 to 50 voice over auditions.
When you come across the winning audition – hire the voice actor directly from their audition by clicking BOOK VOICE ACTOR.
The benefits of hiring voice actors through Voice123's booking feature
Listening to voice over samples and using the search and booking feature is free to use. You only pay for the voice actor's services.
The messages, files, agreement/quote, negotiation discussion, and payment information – all stay in one place.
All bookings have the same initial set of terms: a maximum of 12 months of usage, up to 2 revisions, and an expected turnaround of 3 days. Additional services and extended usage can be negotiated directly with the voice actor and included in the final quote.
Get a guaranteed recording. If anything goes wrong with the first voice actor you choose, our team will get in touch and help you find a new voice for your project;
The Secure Payment system is exactly that … secure and allows your payment to reach voice actors regardless of their payment method or location.
What is the Voice123 Secure Payment system?
Paying different voice actors in different countries often raises many questions, delays, and challenges. The Secure Payment system can help avoid these issues as it enables Voice123 to act as a bond for the booking transaction.
Benefits of using the Secure Payment system
Save time and energy, and eliminate constant follow-ups as Voice123 manages the entire transaction.
Resolve the problem of sending international payments and keeping track of invoices.
Complete the payment via credit card, bank transfer, or PayPal. Or to discuss bulk payments or custom payment options, contact our Key Account Manager here.
The service fee covers the costs of the third-party platform used to receive the payment; our Booking and Secure Payment team who creates, maintain, and enhance the system; our Customer Success team who monitors the booking to ensure 100% satisfaction; and our Finance team who releases the funds to the voice actor.
Hire a voice actor via Voice123's booking feature today!
Find quality voice actors on Voice123 and hire them via the booking feature – it's easy and fast!
FAQ's
How much will it cost to hire a voice?
Voice actors set their fees according to the industry standard voice over rates. You can review those here or post a project on Voice123 and set the budget as looking for a quote. Post your project, for free.
How do I hire a voice actor?
Use the Voice123 search feature to find voice actors and listen to their voice over samples. Once you're ready to hire a voice actor, click book now, enter your project details, enable the secure payment option if you'd like to pay via Voice123, and click submit.
Can I hire voice actors for free?
Creating a client profile, using the search feature, listening to voice over samples, and submitting a booking are all free to use on Voice123. You only need to pay the voice actors you hire for their performance and usage of their recordings.