Let it go… because you can't hold back Anna and Elsa in Disney's Frozen podcast. That's right, a Disney podcast! New story – same characters – but different voices. Why would Disney do a podcast? The global juggernaut is expanding its reach, paving the way for Disney's next gigantic project – Frozen 3. Frozen was the highest-grossing animated film in history, so it's no wonder Disney wants to put out a podcast to create anticipation for the next move. But hold on .. how does this animation affect your brand?
At Voice123, we've covered tons of ways to use the power of voice, from film to video to audio. The new Disney Frozen podcast is just another example of how the power of voice can be used to give your brand another competitive edge. So, in this post, we'll explore what is Disney's Frozen podcast, how the power of voice is used, and fab tips to help you brand your business like Disney.
Are you ready to use the power of Disney's Frozen podcast to create your most epic audio project ever?
What is Disney's Frozen podcast?
Disney's Frozen podcast is an audio-only podcast series with 12 20-minute episodes in the first season, which picks up the story after Frozen 2 – weaving a new adventure for Anna and Elsa in celebration of Frozen's 10th anniversary. Disney Publishing Worldwide partnered with ABC Audio and Walt Disney Animation Studios to create this new standalone Frozen story that will air in October 2023 on podcast apps like Apple and Spotify. The demographic targets kids aged 6-12 but also includes families who listen to podcasts together and fans of all ages who've followed the special world of Frozen.
According to The Guardian, the new Frozen podcast will feature characters from the original films, like Anna, Elsa, Olaf, and Kristof, while introducing new characters like Queen Disa, Lord Wolfgang, and his two magpie pets, Astrid and Magnus. While the film series has inspired various storybook collections, short movies, and series like Frozen Fever, Once Upon a Snowman, and Olaf Presents, the new Frozen podcast is the first independent audio production to feature an all-new voice cast.
What's the storyline for the new Frozen podcast
The new Frozen podcast will be about Anna and Elsa's life in Arendelle following the events of Frozen 2. The story begins after a neighboring kingdom floods, and Anna then welcomes its queen, Disa, and her people into Arendelle. But a mysterious fire at the castle soon sends Elsa, Anna, and Disa into the Enchanted Forest, where strange steam-powered copper machines upset the spirits. Together, the trio discovers where the automatons come from and how to protect Arendelle and the Enchanted Forest from them.
Frozen might be an animated franchise, but it has many vital tips to help your brand. Here's a quick breakdown of 10 tips to brand like Frozen.
10 tips to brand like Disney's Frozen podcast
1. Captivate audiences with your brand's story
What makes Frozen so compelling are its timeless themes: family love, empowerment, and self-discovery. So, intrigue your audience with a unique origin story that delights their imagination. Then, share that story through marketing channels like your website, social media accounts, and even corporate videos to draw more people to your brand.
2. Create iconic brand characters
Anna, Elsa, Olaf, and Kristoff have distinct personalities, appearances, and relatable struggles made real with incredible voice over talent. So, consider how voice overs can appeal to your audience. Then, choose a voice actor like talented pros on Voice123 to match your brand values and highlight your story in marketing campaigns and advertisements.
3. Engage audiences across all platforms
Frozen expanded its brand with movies, merchandise, theme park attractions, a Broadway musical, and the new Frozen podcast. So, extend your brand into different media like web series, podcasts, TV, video content, or interactive apps. By using multiple media platforms, you promote brand exposure to global audiences.
4. Leverage licensing and merchandising
From Anna dolls to Elsa T-shirts and Kristoff and Sven figurines, Frozen merchandise has become household items. So, why not license your brand for physical and digital merchandise opportunities? You can partner with retail chains, clothing brands, or e-commerce platforms to produce and distribute merchandise, from stationery to clothing.
5. Develop catchy jingles
Let It Go is a cultural phenomenon that won an Academy Award for Best Original Song. While you don't need to create Oscar-worthy lyrics, you can still collaborate with local musicians or composers to create a unique jingle or theme song for your brand to make advertisements and videos more memorable.
6. Build a strong online presence
Through teaser trailers, posters, and interactive content, Disney used social media to build excitement for the new Frozen podcast. So, establish a solid digital footprint for your brand and engage with fans through blog articles, how-to videos, and behind-the-scenes content.
7. Target a wide demographic
The Frozen story has humor, adventure, and emotion that appeal to children and adults alike. So, craft marketing messages that appeal to a broad audience. For example, a children's toy brand could emphasize safety features in its products for parents but fun and creativity for kids.
8. Create a franchise ecosystem
Frozen 3 and the new Frozen podcast will continue the franchise while exploring untapped aspects of the original story. So, expand your brand universe by introducing new characters, settings, or storylines through spin-off products or services.
9. Collaborate with influential partners
Frozen teamed up with LEGO to create themed building sets, expanding the brand's reach. So, partner with popular social media influencers or celebrities who align with your brand's values. You can co-create content, host giveaways, or run joint campaigns to tap into their existing fan base.
10. Stay consistent and evolve
Disney continues to evolve the Frozen brand through new content, merchandise, and experiences. The new Frozen podcast is the latest example. So, continuously update your brand's visual identity, like its logos and packaging, to stay modern and relevant, like limited-edition products or seasonal promotions.
What your brand can learn from Disney's Frozen Podcast
Your brand can learn four things from Disney's Frozen Podcast.
Use the power of voice
Inspire shareable content
Adapt to changing trends
Uses emotion to draw in audiences
Here's how you can apply these elements to your brand.
From Idina Menzel's iconic songs as Elsa to Kristen Bell's energetic, resilient personality as Anna, the voices behind the characters created an emotional bond between the franchise and fans. Lesson: Use the power of voice by hiring voice artists like those on Voice123 to elevate your storytelling and bring depth and personality to your brand.
Frozen generated huge user-generated content like fan art, song covers, and parodies. Lesson: Share customer testimonials or photos of them using your products to create authentic brand endorsements.
Disney continually adapts Frozen's story, like by starting a podcast focused on the primary characters Anna and Elsa. Lesson: Consider how e-commerce, social media, and digital marketing strategies can help you adapt your icons or brand story to reach a wider audience.
The new Frozen podcast features emotional storytelling while balancing humor and suspense. Lesson: Tell an emotionally honest story through your brand to audiences.
Final thoughts on Disney's Frozen podcast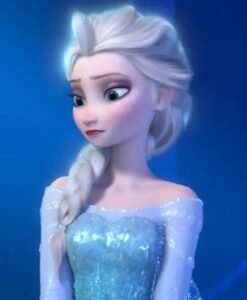 Disney's Frozen podcast is an entertaining story that engages young and old by using the power of the Frozen franchise. So, if you want to harness this success for your brand, start by building a community of customers, promoting shareable content, adapting to changing trends, and drawing in audiences with emotional stories.
And whether you need a quirky voice style like Anna, Elsa's powerful range, or something more comedic like Olaf to bring your brand to life, you'll find various vocal talent on Voice123. You can also use our Managed Services and have our team help you get the job done from start to finish.
It's time to venture into the unknown of branding!
FAQs on Disney's Frozen podcast
What is Disney's Frozen podcast?
Disney's Frozen podcast is a new audio streaming series with 12 20-minute episodes for 6-12-year-olds and families, and it features a new voice cast and a standalone story set between Frozen 2 and Frozen 3.edia like television, radio, and print, digital media like social media, mobile, and video; and out-of-home advertising like billboards and transit ads.
What is the new Frozen podcast about?
The new Frozen podcast is about Anna, Elsa, and their new friend, Queen Disa, as they travel to the Enchanted Forest to discover why steam-powered copper machines upset the spirits.
When does the new Frozen podcast air?
The new Frozen podcast is set to air in October 2023 on podcast apps like  Apple and Spotify.