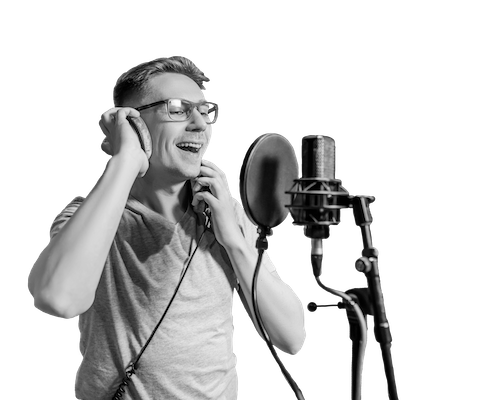 Apply for voice over jobs on Voice123
Every day, thousands of voice over jobs are posted on Voice123.

So, whether you're new to the industry, looking for entry-level or freelance voice over work, or you're a seasoned voice over professional wanting to voice big brand commercials, you'll find all the voice over jobs you could possibly wish for right here!

On top of that, we've got all the educational resources you need for a successful online voice over career .
Sign up and start auditioning
Here's how it works:
1

Get invited to participate

Receive invitations to projects that match your job preferences and budget specifications.

2

Audition for projects

Submit auditions to the jobs you like and be heard by potential clients.

3

Negotiate and get hired

Work directly with your clients and establish lasting business relationships.
View PLANS
Why use Voice123 for your voice over career

Create a free online profile

Audition for the voice over jobs you prefer

Work & communicate directly
with clients

Offer your additional services from copywriting to translating
What a Voice123 membership gets you


Voice over jobs
Get invited to voice over jobs that match your profile and membership tier.

Pro Resources
Resources to help you get started, build relationships and learn about the industry.

Secure Payment service
Use our Secure Payment service to get paid securely and via a payment method you prefer.

Free online profile
Showcase your work, skills, education, and voice samples with a free online profile.

Featured in client searches
Get found by clients who use the Voice123 search engine to hire for voice acting work.

Customer success
Get support from our Customer Success team via email, chat and phone depending on your tier.
Join thousands of voice actors who trust Voice123
"This is the best open source online casting site mainly because of the quantity of invitations to audition I receive on a daily basis, the fact that Voice123 does not charge fees for the jobs booked, and Voice123 allows me to connect with the voice seeker directly to work through all details. I have had recurring clients for more than 8 years from Voice123!"
Lawrence David Hudson
Premium voice actor
"I've tried DOZENS of other Voice Over marketplaces in my decade in the business and Voice123 gets me more work than ANY of the others COMBINED! …and the fact that they don't take a percentage of your work just sealed the deal for me. Just sign up… really! "
Brian Roberts
Voice Over Artist
"Thanks to Voice123, my online client base is constantly growing. Not only in quantity, but diversity and quality too. I never thought I'd have a recurring client in Hong Kong, or deal directly with a mega-corporation in Ireland."
Nadeem Khaled
Voice Over Artist
Voice over Resources Picked for You
FAQ
What do I need to become a voice over actor?
Keep in mind that there's no one-size-fits-all when it comes to equipment and/or skills. The basic tools you need are a computer, microphone, DAW (software), and a quiet environment.
As for skill honing – voice acting classes, online courses and workshops can be a big help! Check out our blog to find the best resources on the voice over industry and to learn more about what it takes to succeed in it.

How do you get a voice over job?
When using Voice123, the first step is to set up a profile. To improve your chances of being found by clients in search results, make sure your profile is complete with voice over samples, and a detailed description of both your background, and the skills and services you're willing to offer. This also provides vital information that the system uses to match you with project invitations, which you can then submit auditions for. Sign up and give it a try!
Is there a trial period?
Our standard membership is free to use for as long as you want. If you're ready to take the leap with Voice123 and acquire a paid membership for the first time, there is a 30-day-money back guarantee. Learn more about all the plans we offer and recommend based on your specific voice over market or sign up for free and decide later.
How much should I charge for voice over work?
Voice123 is an open marketplace. Fee negotiation is solely between client and voice actor. However you can base your rates on both your personal background and industry standards according to different usage, length and project category (Cartoon, commercial, movies, narration, radio, video games, etc). Feel free to check out our voice over rate calculator for an estimate of what clients can be expected to pay.
How do I get paid for my voice over work ?
While you can invoice clients directly according to the payment method that suits you (Paypal, credit card, checks or wire transfers), you can also make use of our free Secure Payment system for Voice123 bookings as a convenient way to receive your funds. It's up to you!